Crunchy leaves, cool mornings, and the smell of spiced pumpkin are right around the corner. This time of year calls for a colorful harvest full of flavors that can be made savory as well as sweet—which means we've got LEAP!-approved recipes to share with you! 
Each of these recipes contains in-season ingredients that match the colors of fall—reds, orange, tans, and some yellow and greens, too. 
Did you know that these colors can tell us about the nutrients in our foods? Yup, all thanks to compounds called phytonutrients. 
Phytonutrients are natural compounds found in plants that give their color, smell, and taste¹. Phytonutrients are critical to a plant's defenses—protecting them from pests and other environmental stressors—but these special compounds may also be critical to human health. Within our bodies, phytonutrients help clear toxins, boost our immune system, support our heart health, and function as antioxidants¹. Therefore, it should be of little surprise that a higher consumption of phytonutrients is associated with a reduced risk of many chronic diseases. 
Not only do we want plenty of phytonutrients, we also want a variety. There are thousands of different types of phytonutrients. Each fruit and vegetable has a different medley of these nourishing compounds, and we can benefit from all of them by consuming a variety of colors in our diets. Fresh produce is the most obvious place to look, but we can also find nourishing phytonutrients in other plant foods, like whole grains, legumes (such as lentils and beans), herbs, spices, nuts, seeds, and teas¹.
Keep reading to learn more about some of the phytonutrients found in your favorite fall foods. We'll spend most of our time discussing carotenoids, a phytonutrient that's abundant in red, orange, yellow, and green foods—just like the colors on the autumn palette. Carotenoids are powerful—they support our immune system, benefit our eyes and skin, help reduce our risk for certain cancers, and help protect us against heart disease¹.
Orange and Yellow
Sweet potatoes, carrots, and various types of orange squash contain a carotenoid called beta-carotene. This nutrient boosts your vitamin A when combined with a healthy fat¹. Vitamin A is fat-soluble, meaning it is better absorbed by the body in the presence of a healthy fat, such as olive oil. Unlike many other nutrients, carotenoids actually become more accessible by our bodies when they are cooked. Lightly cook your orange veggies and combine with a healthy fat for optimal benefits¹.
Red
Lycopene is a carotenoid found mostly in pink and red produce, like tomatoes, watermelon, pink grapefruit, and red cabbage. In these early fall weeks, tomatoes are your freshest source of lycopene! How can you benefit from lycopene? This phytonutrient may protect against certain cancers and help reduce the risk of heart attack¹. Remember to pair lycopene sources with a healthy fat for maximum benefit.
Not in the carotenoid family, but still full of phytonutrients, apples are also in their prime season. Red apples, specifically, contain phytonutrients called anthocyanins, which also help protect the heart and brain¹. These phytonutrients are primarily concentrated in the fruit's skin, so make sure to avoid peeling your apples.
Green
Green produce is widely available year-round and can be some of the most nutrient-dense food you can find. Dark leafy greens are especially rich in phytonutrients. Glucosinolates are a class of phytonutrient that is particularly high in green veggies, such as broccoli, brussels sprouts, and kale. These nourishing compounds are considered neuroprotective. They are damaged by cooking, though, so make sure you get some raw greens regularly¹.
Tan and White
We often think of white and tan foods as being unhealthy, but many of them are rich in phytonutrients. Nuts, seeds, whole grains, and legumes are all nutritious foods, but white and tan non-starchy veggies are especially nutrient-dense. Onion, garlic, and cauliflower are rich in important phytonutrients. These foods contain allicin, which may help reduce blood pressure and support cardiovascular health¹.
Now that we've talked about some basics on several phytonutrients, let's dig into the recipes! These dishes are bound to have your friends and family asking for more this fall. 
Parmesan Carrot Fries
Try these Parmesan Carrot Fries from registered dietician Jennifer Hunt's blog for your next dinner side. They're the perfect combination of beta-carotene and a healthy fat—and bonus, they're kid-friendly too! 
What else is high in beta-carotene? Pumpkin! This fall staple is as healthy as it is aesthetic—and readily available in almost any grocery store during autumn. Make your way to your local farmer's market for the best selection of this squash and try out some of these recipes below.
Slow Cooker Pumpkin Soup
This meal is great for those busy weekdays when you don't have much time to cook in the evening. Simply prep the veggies, toss into your slow-cooker, and let this warm autumn soup make itself.
For those of you who seek vegetarian options, this recipe from Your Choice Nutrition is perfect!
Pumpkin Curry Soup
Similar to the soup above, except you can use canned pumpkin if you don't have time to prepare a fresh one. This soup is also full of veggies and contains a variety of spices to amp up the flavor—one such spice is turmeric powder, which is also a good source of beta-carotene and an anti-inflammatory¹.
Let us know what you think about this soup from Living Well Kitchen.
Pumpkin Spice Chia Seed Pudding
We know fall temperatures may not always be cool enough to want a bowl of warm soup, so try this guilt-free pudding for a cold snack that still tastes like the season. Dietitian Stephanie Wagner gives us a simple recipe on her blog to satisfy that sweet tooth and pack on the nutrition.
Spiced Pumpkin Hummus
Need a dip for your next football watch party? This Spiced Pumpkin Hummus by registered dietitian EA Stewart is just what you need. Making hummus is ridiculously easy—all you need is a food processor and a handful of ingredients.
Pair this seasonal hummus with your favorite veggies, whole-grain crackers, or pita chips and let us know if you love it as much as we do!
Sweet Potato Kale Hash
Pumpkins aren't the only orange food in season right now, sweet potatoes are also in their prime—and they are just as versatile in the kitchen as squash. Your Choice Nutrition gives us a dish full of veggies and protein. Try this Sweet Potato Kale Hash for a savory Saturday brunch!
Stuffed Acorn Squash with Curried Lentils
The curried lentils in this dish will give your taste buds a pop of warm, hearty flavor and provide you with filling fiber and protein. Switch up the usual pumpkin selection and pick up an acorn squash next time you're at the grocery store or farmer's market, too.
Roasted Butternut Squash Soup
More squash soup! This Roasted Butternut Squash Soup also has hazelnuts, which are a great source of healthy fat and phytonutrients as well.
Pistachio Crusted Delicata Squash
Delicata squash—also known as sweet potato squash or peanut squash—is a variant of winter squash that is yellow-orange in color with green stripes. This creative recipe from It's a Veg World After All is a conveniently sweet and salty snack, and can be eaten warm or cold!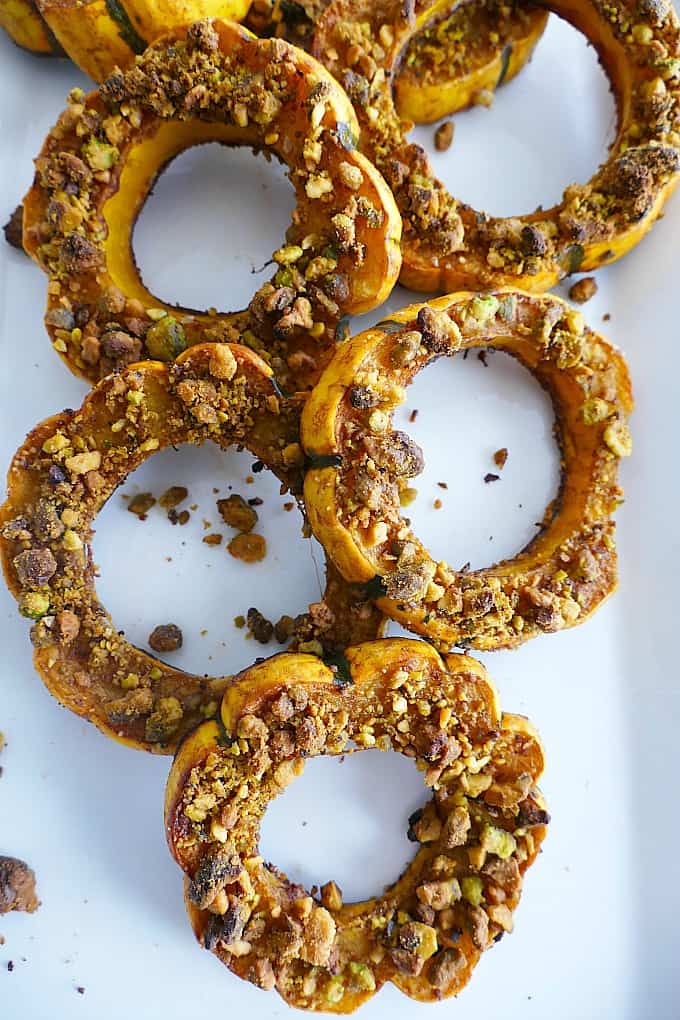 Spiced Tomato Cauliflower
This recipe from Live Best blog uses spices and hearty tomato to highlight the crunchy texture of cauliflower, and it's packed with phytonutrients from these nutrient-dense foods. Serve with a protein for a satisfying meal.
Skillet Pork Chops with Apples
Pair your chops with apples and brussels sprouts for a dinner plate high in phytonutrients as well as flavor. Remember to keep that skin on the apple to gain the maximum phytonutrient benefit. Let us know how much you enjoy this savory combination from the Nourish Nutrition blog.
Maple Mustard Salmon with Brussels Sprouts
Here's another mouth-watering way to cook brussels sprouts. Paired with Salmon, this dish is an excellent source of healthy fat and protein.
Let us know if you try out any of these tasty fall recipes. We'd love to hear from you! If you need more inspiration for colorful produce that is in season this fall, check out this free download!
References: